FraserPop - Maryborough State School 2017
Submitted by

Tatooine

on Thu, 08/24/2017 - 01:43
Did anyone match funds for this fundraiser?:
Photographs: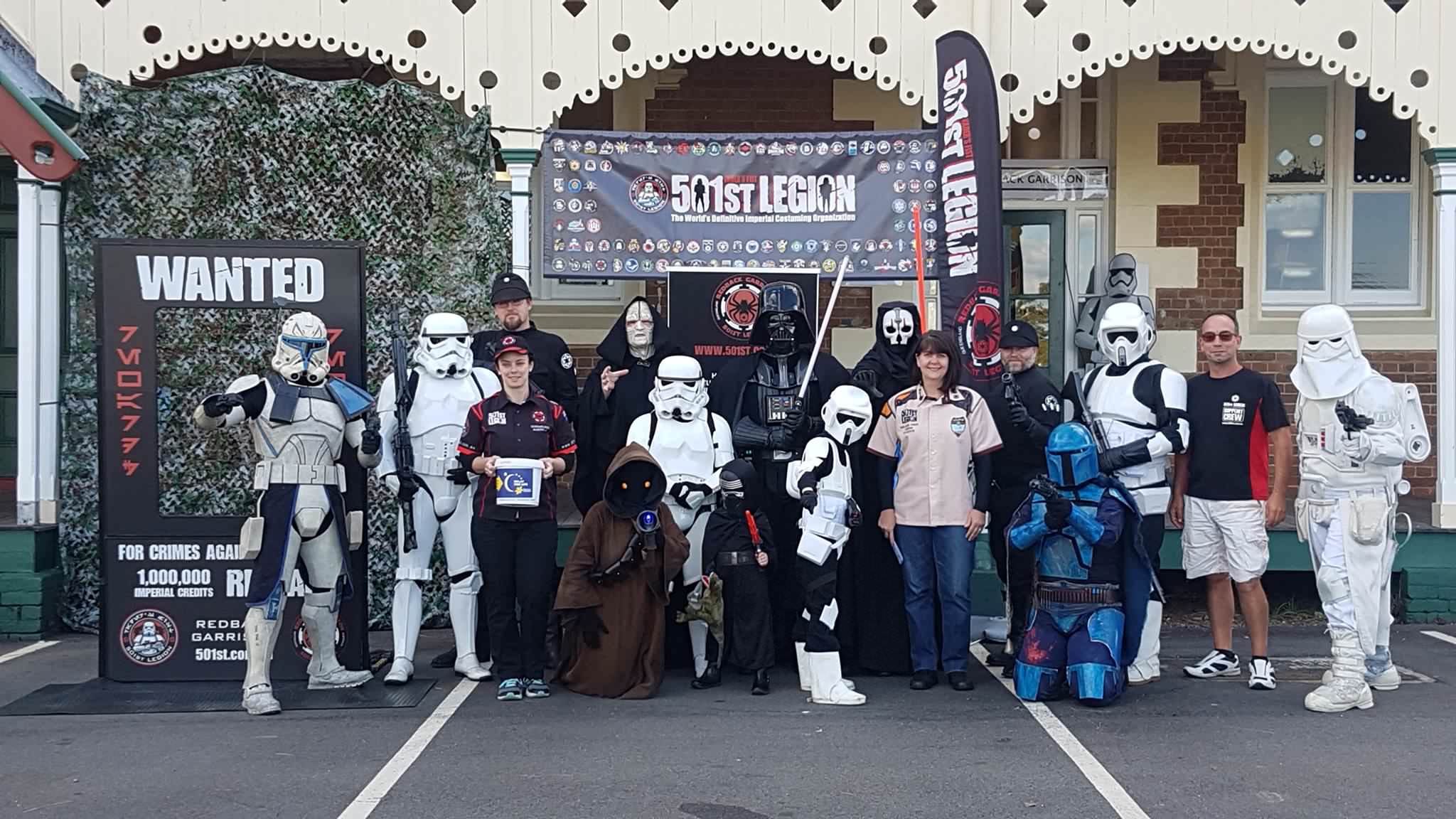 How long did the event last?:
How many members participated in this event?:
Event Description:
Date: Saturday 22nd and 23rd July 2017 Venue: FraerPop - Maryborough State High School Time: 10:00am - 6:00pm Saturday 10:00am - 4:00pm Sunday Mission: To attend the first FraserPop Con Trooper Attendance: Rebel Legion Arienh : Jawa Beanie : Captain Rex Dark Dora : Jawa DarkFather : Jawa PhantomBlade: Jedi Redback Garrison Arienh : Sandtrooper / Jawa Baytrooper : Snowtrooper Beanie : Captain Rex Dark Dora : Jawa DarkFather : Darth Vader / Royal Guard / Jawa Diatium : Heavy Weapons Trooper Firestorm : TIE Reserve MyKill : Reserve Pilot / Imperial Crewman / Warrant Officer Redpaint : Biker Scout / Royal Guard Teiwaz: Biker Scout / Darth Nihilus Triple9: Emperor Galactic Academy GA 2272: Rey / Kylo Ren GA 2546: Stormtrooper GA 1276: Biker Scout GA 2074: Jedi Mandalorian Mercs Baytrooper Phantomblade Support Crew Cadet : Darth Temptress Cadet: Destiny Cadet: Papa Details: .. FraserPop Con was the first event of this type in the Wide Bay area. It was entirely organised by the Diploma of Business students at Maryborough State High School. The weekend was a big success for the area and more than 7000 people visited over the 2 days. Thank you to all the members who provided the props for the weekend. They really made our area stand out as the best set up there. Everyone helped out in all areas, including wrangling, shaking the buckets and selling the Raffle tickets. The Bump In/Out was also done really well and the entire team for the weekend all worked very, very well together. Thank you again to those members who traveled to Razorbacks territory to make this an awesome special weekend. Charity Funds Raised: $751 from the Raffle for Cat Connections HQ $295.10 from Donations gathered over the 2 days going towards Redback Garrison - Razorbacks Squad Relay For Life Team Injuries / Malfunctions: Nil Public Incidents: Nil Mission Status: A HUGE success. We will be back next year 100%.
What other groups participated in this charity event?: