Goldnova- 21 - 23 April 2017
Submitted by

Tatooine

on Thu, 04/27/2017 - 22:49
Did anyone match funds for this fundraiser?:
Photographs: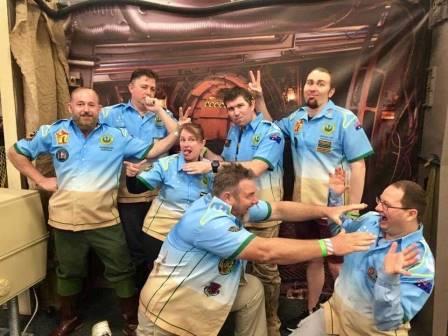 How long did the event last?:
How many members participated in this event?:
Event Description:
Date: 21 April to 23 April 2017 Venue: Gold Coast Convention and Exhibition Centre Time: Friday Bump-in – Sunday Bump-out Mission: To amaze the Supanova crowds with our awesomeness while raising money for charity. Rebel Attendance: Many Guest Trooper Attendance:501st Legion Redback Garrison, Southern Cross Garrison and the Galactic Academy Support Crew: Many Detail: First off I would love to thank all of the Rebel Legion members that attended Goldnova 2017. We had a awesome weekend and it was great to see a sea of our Rebel Legion shirts worn with pride. Dark Dora Troop report for the GEM Teiwaz (RBG) below: There are a lot of people to thank and acknowledge. First thing to note is with 61 troopers and support crew this is the largest contingent the 501st and Rebel Legions has ever sent to Supanova at the Gold Coast. All these volunteers had to pay money to attend, feed, transport and accommodate themselves, many a long way from home. It was an amazing effort by all involved. Thanks to the bump in and bump out crews for a smooth and quick operation. Thanks to Rubber for providing the 2 Falcon backdrops and Beanie for Tattooine. We deployed 3 backdrops and an assortment of banners and other props to draw people to the table. All up we presented the public with a first class display. We had a particular focus this weekend to send people to the table. When spruiking at the photo stands there isn't time to discuss the other events we wanted to promote, particularly Dreamworld and the GECB. The best way to get them to the table was to promote the raffle. The result was a massive 388 raffle ticket sales. Thanks to everyone who manned the table over the weekend, it was an important element and you did a great job. Thanks to WEB for the Tusken helmet raffle prize. The Tusken is an iconic build that was easy to sell. Thanks also to Deltorn for donating the diorama, that was a great addition to the prize pool. Thank you to the Galactic Academy troopers and their parents. They made a great contribution handing out flyers, and the resilience of some of these kids on the stands was amazing. Having GA kids on the stands makes it so much easier to get little kids into photos, and the reaction from the public was great. Thanks to our friends from the Southern Cross Garrison, you're great to work with and your contribution was very welcome. Particular thanks to Tappa for being our Vader for the weekend. Your long hours in costume on the stands, leading the parade and a massive contribution in the park had a fantastic response from the public. Thanks to Hire a Tardis for again contributing to our charity total. These guys are always great to deal with and we appreciate their support. Supanova as a business were very easy to deal with and extremely accommodating. With some things they could be flexible and some things they couldn't, and that will vary from event to event. But it was clear I was benefiting from the long history of cooperation and understanding they had of our needs. They put our stand in a first class position right next to the Supanova Store, and we really appreciated the improved location this year. Superhero Weekend This year we were invited to participate in the Superhero Weekend at the park across from the GCEC. It was set up as a separate event with Duras leading the troop. We had to ask troopers at the end of a long day of trooping Supanova to volunteer to send a squad of troopers and support crew across the road while keeping enough to cover the stands at Supanova. And again in the morning after the parade. They gave us a $500 donation for that, plus what we collected in the buckets. The combined effort required to do all this was enormous and we were initially thinking it was too ambitious to cover everything. Duras did a great job putting together a team and worked in with us so we had enough to cover both events safely. And as became a constant theme over the weekend, people stepped up. We were amazed at the willingness of people to step up and help. Just a constant flow of people looking out for each other and getting the job done. It really was a joy to watch and it bodes well for the Dreamworld event next month. This was my first con as GEM and there was plenty to learn. Probably the biggest learning for me personally was how fluid a large con is. Planning is important but will only take you so far. When the curveballs come you have to adapt and overcome on the spot. Thank you Adam, Rick and Kev for your experience and support. My command group was an outstanding combination. It is simply impossible to GEM an event this large and complex alone. You need a team you can trust to manage things when you are busy elsewhere. Deltorn brought a wealth of experience and connections. He was invaluable in helping us navigate the processes and avoiding the pitfalls. He was in charge of that all important table and he kept going long after his body told him to stop. Thanks Mike for all those late night chats and your efforts over the weekend you are a legend. Last but not least is my number one 2IC Dark Dora. Stacey has been tireless in her support and has done an enormous amount of work in the weeks leading up to the event. For the mixer she found the perfect family friendly venue with great value food 5 minutes walk from the convention centre. They had a very respectable parmy for $15 too! She had a separate area set aside for us, and it wasn't noisy. To anyone who thinks organising a large mixer is just booking a table, think again. Stacey navigated a lot of issues and delivered a great mixer. Stacey's performance on the day would not be a surprise to anyone. If she wasn't bouncing around in her jawa on the stands, she was out the front spruiking the raffle. She encouraged and supported the GA and RL who made great contributions this year. She just simply did not stop working the whole weekend. I could not have done it without you honey thank you Charity Funds Raised: $4343.45 for Cancer Council via the Razorback Squad Relay for Life Team. Includes $500 from the Superhero Weekend and the proceeds from the Hire a Tardis collection Injuries: Nil Malfunctions: Some wear and tear malfunctions, nothing gaff tape and zip ties couldn't fix! Public Incidents: Nil Mission Status: Complete Success Photos:
What other groups participated in this charity event?:
Charity Description:
To amaze the Supanova crowds with our awesomeness while raising money for charity.